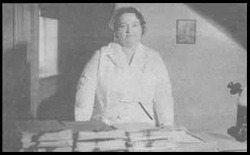 On a fateful day in 1922 Canadian nurse Rene Caisse happened to notice some scar tissue on the breast of an elderly English woman.  The woman said that doctors had diagnosed her with breast cancer years before.  However, the woman didn't want to risk surgery nor did she have the money for it.
The English woman had met an old Indian medicine man in the 1890s who told her that he could cure her cancer with an herbal tea.  The woman took the medicine man's advice, and consequently she was still alive nearly thirty years later to pass on this herbal remedy to Nurse Caisse.
About a year later, Rene Caisse was walking beside a retired doctor who pointed to a common weed and stated:  "Nurse Caisse, if people would use this weed there would be little cancer in the world."  Rene later stated:  "He told me the name of the plant.  It was one of the herbs my patient named as an ingredient of the Indian medicine man's tea!"   The "weed" was sheep sorrel.  In a 1974 letter to Dr. Chester Stock of the Memorial Sloan-Kettering Cancer Institute, Rene Caisse stated:  "Who in the world would ever think to find a solution to cancer in a common meadow?"
In 1924 she decided to test the tea on her aunt who had cancer of the stomach and was given about six months to live.  Her aunt lived for another 21 years, cancer free.
Rene Caisse (pronounced "Reen Case") later gave the tea to her 72-year old mother who was diagnosed with inoperable cancer of the liver, with only days to live.  Her mother recovered and lived without cancer for another 18 years.
In the ensuing years Nurse Caisse refined and perfected the original "medicine man's" formula.  She tested various herbal combinations on laboratory mice and on human cancer patients.  She eventually reduced the tea to four herbs:  burdock root, sheep sorrel (whole herb including the roots), slippery elm and Turkey rhubarb.  She called the formula Essiac, which is her surname spelled backwards.  [Read "I Was Canada's Cancer Nurse" for more details.]
Rene Caisse devoted over fifty years of her life to treating hundreds of cancer patients with Essiac.  So effective were her treatments that in 1938 her supporters gathered 55,000 signatures for a petition, amongst other petitions, to allow Rene Caisse to continue treating cancer patients.  A bill was introduced in the Ontario legislature to (allegedly) "authorise Rene Caisse to practice medicine in the Province of Ontario in the treatment of cancer and conditions therein".  Due to the machinations of the medical establishment, the bill failed to pass by just three votes.
However, Rene Caisse made her views known regarding this bill which would set up the "Royal Cancer Commission" to investigate all possible cancer cures.  She told the press:  "The people of Ontario will be paying a group of men to develop something that was developedand discovered 15 years ago.  I have developed and proven a cure right here in Bracebridge, and I am running a clinic where hundreds of cancer sufferers are being treated and helped.  Why then should I be asked to give my formula over to a group of doctors who never did anything to earn it?"  [CALLING OF AN ANGEL, p. 59.]
WHAT DID DOCTORS SAY ABOUT RENE CAISSE'S TEA?
Rene Caisse operated her cancer clinic under the supervision and observation of a number of doctors. Based on what those doctors saw with their own eyes, eight of them signed a petition to the Department of National Health and Welfare at Ottawa, asking that Nurse Caisse be given facilities to do independent research on her discovery.  Their petition, dated at Toronto on October 27, 1926, read as follows:
To Whom It May Concern:
"We the undersigned believe that the 'Treatment for Cancer' given by Nurse R.M. Caisse can do no harm and that it relieves pain, will reduce the enlargement and will prolong life in hopeless cases.  To the best of our knowledge, she has not been given a case to treat until everything in medical and surgical science has been tried without effect and even then she was able to show remarkable beneficial results on those cases at that late stage.
"We would be interested to see her given an opportunity to prove her work in a large way.  To the best of our knowledge she has treated all cases free of any charge and has been carrying on this work over the period of the past two years."
Initially, Rene was not aware of the control that the medical/pharmaceutical establishment had over governments.  After the petition was delivered to the National Health and Welfare Department, she was continually threatened with arrest until she finally withdrew from public view.  Unlike Nurse Caisse, the medical establishment was more interested in making money than in helping people.  Essiac was cheap.  It could cut into the lucrative profits from radiation, chemotherapy and surgery–treatments that often do more harm than good.  Essiac is non-toxic.  Rene said, "Chemotherapy should be a criminal offense."
The story of Rene Caisse's struggle to make Essiac an official cancer treatment was told by Dr. Gary Glum in his book CALLING OF AN ANGEL:  ESSIAC, NATURE'S CURE FOR CANCER.  In a telephone conversation Dr. Glum stated that people who take Essiac on a regular, preventive basis do not get cancer.  Dr. Glum interviewed JFK's personal physician, Dr. Charles Brusch, who stated:  "I know Essiac has curing potential.  It can lessen the condition of the individual, control it, and it can cure it."
Dr. Ralph Moss was appointed to the Cancer Advisory Panel that evaluates alternative cancer therapies for the government.  On his web site and in his book CANCER THERAPY, Dr. Moss points out that each of the herbs in Essiac has been scientifically shown to contain anticancer substances.  In his "Cancer Chronicles" , Dr. Moss notes Essiac's rising popularity by comparing Essiac's low cost to a $150,000 bone marrow transplant.
ESSIAC–MORE THAN JUST A CANCER TREATMENT
Dr. Frederick Banting, the co-discoverer of insulin became interested in Essiac and even offered Nurse Caisse research facilities to test it.  According to Rene, Dr. Banting stated that "Essiac must actuate the pancreatic gland into normal functioning".  Even today diabetics are using Essiac to improve their condition and many have gone off insulin entirely.  (For more information on diabetes and Essiac read theDr. Marijah McCain interview.)
Essiac has become widely known for its remarkable ability to boost the immune system and detoxify the body.  Many people who drink Essiac tea regularly report feeling healthier with less incidence of colds and flu.  Burdock, for example, has a well-established reputation for detoxification and support of the liver and organs of elimination.
BURDOCK ROOT
(Arctium lappa)
For centuries burdock root has been regarded as an effective blood purifier that neutralizes and eliminates poisons from the body.  Burdock contains a volatile oil–especially in the seeds–that is eliminated through the sweat glands, taking toxins with it and alleviating skin problems.  Burdock contains niacin, which is known to eliminate poisons from the body, including radiation.  Burdock also supports the bladder, kidney and liver and has been said to dissolve kidney stones.  It also contains an abundance of minerals, particularly iron.  Studies have shown anti-tumor activity in burdock.  Japanese scientists have isolated an antimutagenic property in burdock, which they call the "B factor".  The Japanese grow burdock root for food as well as medicine.  A memorandum from the World Health Organization revealed that burdock was active against HIV.  Extracts of burdock seed have demonstrated potent anti-cancer action against leukemia [HERBAL MEDICINE, HEALING & CANCER by Donald Yance].  Burdock is also a component in the Hoxsey herbal cancer treatment.
SHEEP SORREL
(Rumex acetosella)
Rene Caisse isolated sheep sorrel as the main Essiac herb that caused regression of metastasized cancer and reduction of tumors.  She used thewhole herb including sheep sorrel roots.   In fact, she stated that sheep sorrel roots are a necessary part of the formula.
Dr. Ralph Moss points out that sheep sorrel contains aloe emodin, a natural substance that shows significant anti-leukemic activity.  Sheep sorrel contains antioxidants, is diuretic and has been used to check hemorrhages.  Sheep sorrel is a traditional food of native cultures and is still served in fine restaurants along with other sorrels.
SLIPPERY ELM
(Ulmus rubra/fulva)
The inner bark of the slippery elm tree is well-known for its soothing and healing properties.  It reduces inflammations such as sore throat, diarrhea and urinary problems.  It has been regarded as both a food and medicine.  Dr. Moss noted that "slippery elm contains beta-sitosterol and a polysaccharide, both of which have shown [anti-cancer] activity."
TURKEY RHUBARB ROOT
(Rheum palmatum tanguticum)
Turkey Rhubarb has been shown to have anti-tumor activity.  It is diuretic, anti-inflammatory, anti-bacterial and has been used extensively to relieve constipation.  It is medicinally more potent than garden rhubarb root and is more palatable.